Torres, Scammon, Hincks & Day was proud to sponsor the 7th Annual TargetCancer Gala on November 17, 2016.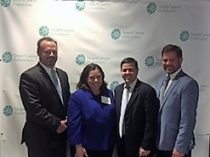 The TargetCancer Foundation is a non-profit organization that promotes the development of lifesaving treatment protocols for rare cancers.
Kristen Schuler Scammon, a partner at TSH&D and a member of the TargetCancer Foundation Board said, "It is an honor to help carry on Paul Poth's work raising funds to support the research and treatment of rare cancers, and to support patients undergoing treatment."
Congratulations on a successful event at Fenway Park and raising more than $200,000 for rare cancer research!